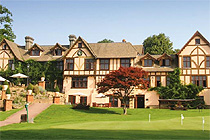 Mannings Heath hosts final leg of Tour and evening party celebrations
In what has been a remarkable year for British sport, topped off with Europe's astonishing fight-back in The Ryder Cup, the curtain has also come down on the Home Counties' own sporting & business success story – The South Coast Golf Tour. The 2012 South Coast Golf Tour has welcomed over 100 businesses and Mannings Heath Golf Club hosted the final leg of the Tour before the Prize Giving Ceremony for the Tour and the Tour Putting Competition on Friday November 9th.
Following the prize giving celebrations, the end of season party included an evening meal, live music and a disco. For winning the Tour's Nearest the Pin competition, Neil Lucey of Western Union was handed the keys to a BMW for the weekend. The full list of South Coast Golf Tour 2012 winners are:
2012 Order of Merit Champion: Steve Maton 5 Rings Telecom
2nd Order of Merit: Alan Edwards Carpenter Box
Winner of the Mannings Heath Tour Final: Alan Edwards
Second Place: David Fluke
Best Guest: Alan Smith, Gate-A-Mation
2nd Guest: David Deering, DD Couriers
Nearest Pin Winner: Neil Lucey
Dizzy: Support 4 Diabetes Order of Merit Champion: Steve Maton
Dizzy: Support 4 Diabetes Best 4events: Peter Raynsford 5 Rings Telecom
Following the Tour's launch, also at Manning Heath Golf Club in March, the South Coast Golf Tour visited eight prominent golf courses throughout the Home Counties between March – November, enabling members to hone their golfing skills by competing in the Tour Order of Merit and challenge for prizes at each stage. Tour venues included East Sussex National Golf Club, Copthorne Golf Club and West Surrey Golf Club.
David Fluke, South Coast Golf Tour Director and pro-golfer comments: "The 2012 Season has been the best yet with members having been given the chance to play at some of the most prestigious courses our region has to offer. I have been amazed at the high-level of golf demonstrated by some of the guys and I hope they relax and enjoy the finale at Mannings Heath. I hope it has been an experience they have enjoyed and will look forward to again in 2013."
Claire Love comments: "We have taken it one step further this year; we have brought together members and guests and given them the opportunity not only to network but also to take part in a professionally organised Tour at some well-renowned courses across the Home Counties. Therefore I would like to offer our sincere thanks to both our sponsors and partners – their commitment to the Tour has played a massive part in ensuring our members have been given this professional structure to do business and play golf. We have already started planning to make the 2013 Tour even bigger and better and we look forward to welcoming more businesses who embrace both the sport and networking."
This year's Tour has raised over £800 for Dizzy, a charity that supports people living with diabetes, with a new putting challenge at each event. This charity putting competition is open to golfers and non-golfers and will run immediately after each Networking Breakfast – giving attendees the chance to pit their wits on the putting green whilst at the same time raising money for a good cause.
Following the success of its inaugural year in 2011 the South Coast Golf Tour also secured three Premier Sponsors for 2012 in Carpenter Box LLP, SJA International and 5 Rings Telecom. The Tour has also partnered with Mannings Heath Hotel and Exclusive Golf, which are part of the Exclusive Hotels Group which includes PennyHill Park and South Lodge Hotel.
Visit the South Coast Golf Tour Facebook page to see more pictures from the Tour Final at Mannings Heath.