On the 10th October the finale to this year's South Coast Golf Tour Championship finally arrived and it certainly lived up to every expectation we had for a great end to another fantastic year on the tour.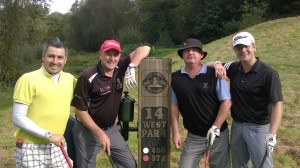 Following a buzzing 6th round at Mannings Heath, the stunning East Sussex National Golf Course and Hotel was a perfect finish to such a great and varied course line-up.
The West Course, which measures over 6200 yards, was no match for our superb event winner Ian Mackendrick from Towry. He took it all in his stride and delivered a great round. Congratulations also to Kevin Murphy from Kevin Murphy Garden Design, who only missed out as the event winner on the last 9 count back.
An impressive 96 Stableford points led Adam Westwood, British Army, Keir McCarthy from HRS Recruitment Force, Stuart Jones from Westminster Property Services and Steve Jeffery from SJD Mechanical Services to the team prize. Meanwhile Steve Maton from 5 Rings Telecom was nearest the pin and Mark Hynes from Wealth Strategies was our best guest – great to have you with us Mark!
Dominating our charity competitions was Peter Raynsford from 5 Rings Telecom, not only winning the hugely popular putting contest but also correctly guessing the Clear Computing "Lost Ball Charity Sweepstake" – and promptly donated his £70 winnings back to dizzy: support for diabetes – thanks for being such a good sport, Peter.
Finishing the round just in the nick of time before the thunderstorms really hit, it was time to crown the Order of Merit Winner of the 2014 season, which this year went to Ian MacKendrick, who was 4 points clear of runner-up Steve Maton. Congratulations Ian, great job. Well done to Peter Raynsford who is this year's Charity putting Order of Merit winner, and a big thanks to Barny Hall at Clear Computing for sponsoring and providing wonderful trophies and winners shields throughout the season.
But the day didn't finish there; the fun was only just beginning. It was time for everyone to get on their glad rags for the Tour Final Party with great food, great company and some interesting shapes being thrown on the dance floor.
Another successful year on this networking tour was marked by celebrating old and new friendships and fruitful business relationships in an evening full of laughter and enjoyment. We can't wait to see what next year will bring!
Take a look at where the 2014 tour took us and find out more about securing your place on next year's tour by contacting us on 0845 362 8543  or via info@southcoastbusinessgolf.co.uk.