We thought that Round 5's scorching day at Gatton Manor would be a tough act to follow but the 2014 Tour momentum was running high at Mannings Heath Golf Club last Friday, making the penultimate round another day to remember.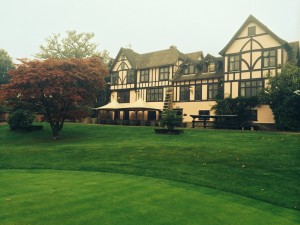 This Horsham hot spot provided an exciting course where the 72 par combination of heathland, downland and parkland proved quite a challenge for our players.
The testing waterfall course winner was Geoff Raynsford from 5 Rings Telecom, with an impressive 40 points, closely followed by runner-up Jason Harfield from Orion Lightning Protection, who certainly gave him a run for his money. Current tour championship leader, Charlie Eve from Carpenter Box, couldn't quite keep up with the pace of the winners in this round but showed why he is Mr Consistent and currently leading the Order of Merit. View the Order of Merit results to see the top 10 Players from Round 6.
With 101 Stableford points, Geoff Raynsford, Charlie Eve, Derek Steele from Jacobs Steel Estate Agents and Steve Hollamby from Bennett Griffin made up the winning team and they really showed the rest how it's done. Kevin Murphy from Kevin Murphy Garden Design also picked up a prize for being nearest the Pin.
As always it is great to see new faces on the tour and congratulations to Nigel Coppen from Vantage Insurance for being our 1st place guest.
The Clear Computing charity putting competition, which raises money for dizzy:Support for Diabetes, is always a highlight, and the Round 6 winner was Steve Hollamby with just 16 putts. Well done to Lost Ball Count winner Charlie Eve, who kindly donated the £107 prize money to dizzy:support for diabetes.
And a big thank you to SJA International who were our 'prize sponsor' and helped to make the day such a success.
We have loved every minute of the 2014 South Coast Golf Tour so far but the best is still to come. We can't wait for the Championship Final and Tour Final Party on the 10th October 2014 at the stunning East Sussex National Golf Club and Hotel. If you haven't done so yet, book your place now and join us in celebrating the fantastic business relationships we have built on the golf course this year.
For more information contact us on 0845 362 8543 or via info@sc-golf.co.uk