It may have been blowing a gale on the most unforgiving course on the South Coast on Friday 18th August, but no amount of wind or rain was going to send our players into a spin, especially not for the dizzy: support for diabetes golf day.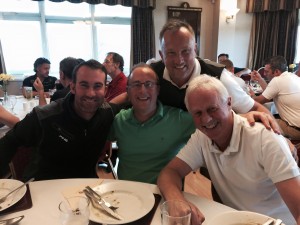 In support of this Sussex-based charity, which provides support and financial assistance for diabetics, Tour members and dizzy guests alike turned out in force for a fabulous day of Golf.
Raising Awareness
The charity's primary aim is to promote awareness of diabetes across Sussex and there were various opportunities to do this throughout the day. One way to do this was through a menu created to be suitable for people with diabetes to eat.  The delicious chicken lasagne, which was served as the main course reminded the players of the challenges diabetic people have to go through to ensure they are eating the correct food.
The well-loved charity putting competition, which sends proceeds to dizzy throughout the Tour year, was in full swing at this event as well a raffle full of fantastic prizes, including golf lessons, golf equipment, wine and other goodies, to raise money for this worthy cause.
Nearest the Pin
Plenty of controversy surrounded the Nearest The Pin competition at Littlehampton Golf Club. Adam Westwood, from Titan Scaffolding, claimed to have been nearest on the 3rd but insisted it was too wet to write his result onto the scoreboard. We thought it all sounded a bit fishy but his claim was actually validated by his team members – so we'll trust you this time Adam.
The Winners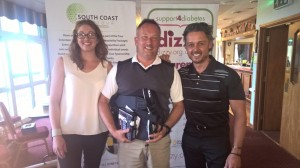 This time it was Graham Lind from CNC ltd who conquered the difficult weather conditions and achieved victory at Littlehampton. Meanwhile Matt Clifton-Bowley from LWS Marketing battled his way to be best of the rest. This takes him to the top of the order of merit leader board with his eyes set on the prize this year. Discover the full list of winners here and keep up-to-date with how the order of merit is looking.
The next stop on the South Coast Golf Tour is the Unibind and Hacker Young joint company golf day at Piltdown Golf Club. Don't miss the chance to play at this East Sussex gem – secure your place now.