Did you hear about the great battle of Piltdown? Yes, Thursday 24th September will go down in history as the day two fiercely competitive business owners mustered their armies of most-valued clients to compete against each other on the hard and fast heathland of Piltdown Golf Club, whilst making some crucial allies along the way. It was, of course, the Unibind and UHY Hacker Young joint Company Golf Days on the South Coast Golf Tour. Who would be victorious – the UK's leading specialist of binding and presentation products or the challenging chartered accountants?
The Team Competition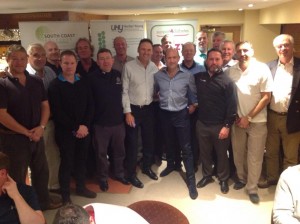 Contrary to the normal 2 from 4 team scoring system employed on the Tour, at this event players were representing the company that had invited them, so the best 10 scores were collected from each team. Although a South Coast Golf Tour team did enter, they just didn't have what it took on the day and it was only ever really a battle of two teams. After a very close round, beating Unibind by an impressive 7 points in the end, it was UHY Hacker Young who rose to victory, winning a bottle of wine and a set of golf balls each – better luck next year Unibind.
The Charity bid
As if the competition wasn't hot enough, Unibind director Tsolag Keoshgerian and UHY Hacker Young director, David Guest decided to raise the stakes – the person on the losing team had to donate £25 to the Tour's chosen charity, dizzy: support for diabetes. Just to make things even more interesting, they then both had to predict a winner and, based on their chosen player's result, they had to pay double or quits to the charity. In the end, both Tsol and David donated £25 – some good fun to raise money for a great cause.
The MT Sport mobile massager
Perhaps the reason why UHY Hacker Young managed to fight their way to the top could have been down to more of their players testing out the MT Sport mobile massager from MassageTechT, a piece of fitness equipment on exhibition at the event. There was certainly a lot of interest drummed up around how this handheld vibration massage therapy device could improve golfing performance when used as part of a warm-up.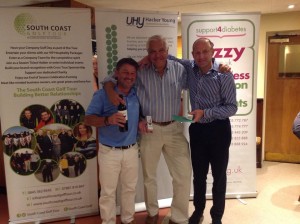 Congratulations to 1st place winner, UHY Hacker Young guest Ray Charmak from River Oaks Homes Ltd. His superb score of 37 won the chance to play with Tour Director, Dave Fluke, at Stoke Poges Exclusive Champions golf day – as well as a bottle of wine and some golf balls of course. Click here to see the list of winners from the day.
Simply attending this buzzing event meant everyone was a winner, because of the opportunity to meet and build relationships with such a large number of people from a diverse range of businesses. The future business opportunities to come out of these relationships will be the prize!
With just one event to go now, this is your last chance to get involved in the 2015 South Coast Golf Tour – don't miss out! Secure your place now, or contact Dave on 07881 810847 or via david@sc-golf.co.uk to find out how the Tour could benefit your business in 2016.