On Wednesday 1st June we revisited a South Coast Golf Tour favourite – The 5 Rings Telecom company golf day at Gatton Manor Golf Club. Yes, they loved the last five years as a fixture on the Tour so much that they came back again, and the sixth year was just a successful as the first five.
The Mystery Ball
Additional games are an anticipated feature of the 5 Rings Telecom company golf days,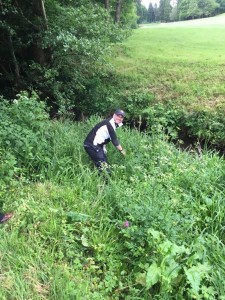 and this year was no different with all teams taking part in 'The Mystery Ball'. Players take it turns, hole by hole, to use the coloured ball. The aim of the game is to score the most points using this ball – before you lose it of course! And some teams went to great lengths to avoid the embarrassment of losing their mystery ball, see Ian MacKendrick from Frenkel Topping wading through the weeds to find his. Despite his best efforts his team still fell behind, leaving it to Peter Raynsford (5 Rings Telecom), Harvey Osler (ODT Solicitors), Chris Sewell (Active Information Systems Ltd) and Trevor Weare (Active Information Systems Ltd) to take the prize.
The winners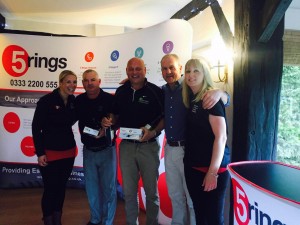 Congratulations to Adam Westwood (Titan Scaffolding) who was two points clear of second place Abee Hameed (Ashtead Stores) and third place Nick Dumbleton (ETI.) Not only did he impress in the individual competition but he helped his teammates Jason Harfield (Orion Lightning Protection) and Ian MacKendrick (Frenkel Topping) rise to the top of the team competition.
Being home to the longest hole in the South East of England, a back-breaking 645 yard, Gatton Manor provides the opportunity for a unique competition, 'The Longest Drive'. As players lined up to hit the ball as far as they could down the fairway, this year it was Tony Harvey (Dynamic Cloud Services) who was able to beat last year's winner, our very own Tour Director, David Fluke.
See all of the results from the day here.
Next time…
Round four of the 2016 South Coast Golf Tour will take place on Tuesday 21st June at Piltdown Golf Club for the UHY Hacker Young and uPhotogifts joint company golf day.
Secure your place for Tuesday 21st June at Piltdown Golf Club today or contact David on 07881 810847 or via david@sc-golf.co.uk to find more about how becoming part of the South Coast Golf Tour could benefit your business.