We joke about it every year, but once again, despite a grim weather forecast, the nicknamed 'Sunshine Tour' struck again on Wednesday 27th April, for the opening event of the South Coast Golf Tour at Cowdray Park Golf club – 38 events since the Tour started and only a couple of hours rain in total!
This year the first event was hosted by Orion Lightning Protection and MR Electrical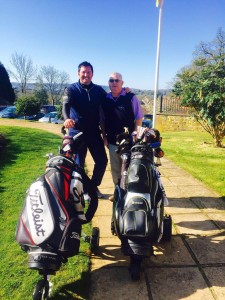 Services, and they certainly brought a competitive team of players along, with their guests winning both the team and individual prizes, giving our Tour players a run for their money.
The Winners
Yes it was nearly a clean sweep for the MR Electrical Services guys, with the individual prize going to one of their guests Robin Keeler and the team prize being four more, Marc Renouf, Tim Guest, Rob Bradshaw and Damian Smead. Great stuff MR Electrical Services – but you weren't without competition.  Derek Steel from Jacobs Steel Estate Agents gave them a good fight in the individual competition coming an extremely close second place, and Jools Chaffer from dizzy: support for diabetes came top in the charity putting.
The Competition is wide open
So as it stands after the first event, we have 5 different companies spanning the top five places of the 2016 order of merit. M R Electrical Services, Jacobs Steel Estate Agents. Frenkel Topping, Ashead Stores, Marlin Building Services. This also plays testament to the wide variety of business that we have on the Tour this year to improve the networking and relationship building experience available to our players. See the full order of merit here.
What's coming next
In just 15 days we will be heading to Ifield Golf Club for round two of the South Coast Golf Tour, and the Carpenter Box Company Golf Day. This is a well renowned event every year on the Tour, and one you definitely don't want to miss.
Book your ticket for Friday 13th May at Ifield Golf Club Today, and contact David on 07881 810 847 or via david@sc-golf.co.uk to discuss more opportunities for your business on the 2016 Tour.