Their philosophy is 'It's all about the service…' and that is why if you had phoned 5 Rings Telecom on Friday 19th June your call would have still been answered within five rings, despite some key members of the team being out on the fairways at Gatton Manor Golf Course in Surrey.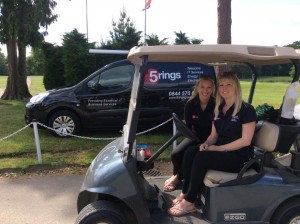 Yes, Round Three of the 2015 South Coast Golf Tour played host to the 5 Rings Telecom Company Golf Day and with it came some valuable business building opportunities, some sporting competition and some interesting golfing attire – we really must sort out that best dressed award!
The Longest Drive
With Gatton Manor home to the longest hole in South East England at 645 yards, it was the perfect opportunity to set up a longest drive competition – and boy was it long. It was all in the swing as players lined up to whack the ball as hard and as far as they could down the fairway, but in the end it was our very own Tour Director, Dave Fluke, who was able to go the distance. Better luck next time folks.
The Magic Ball
The aim of the game here is to take turns within each team to use the magic ball so that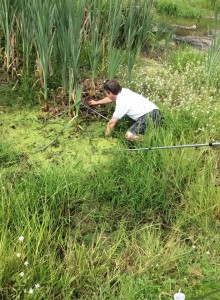 someone is playing it on every hole and, crucially, to make sure you still have it at the end of the round. The dedication to the cause was remarkable, with teams searching high and low, desperate to bring their magic ball home. Stephen Hollamby from Bennett Griffin even waded barefoot into what can only be described as a swamp to retrieve his team's ball, only to discover afterwards that it wasn't theirs at all. At the end of the day only five out of 13 magic balls survived the course and the one with the winning score belonged to Ian Ward from Symonds and Reading, Sarah Jewell from ALC Health, Henry Osler from ODT Solicitors, and Tony Harvey from Dynamic Cloud Services.
5 Rings on the 18th Hole
Along with many great traditions from their five years on the South Coast Golf Tour, this year saw the return of the 5 Rings 18th Hole Challenge. Yes, this literally involves trying to hit your ball so that it lands inside or touching one of five plastic rings placed out on the 18th hole. But after much concentration and some agonisingly close calls, no-one was up to the challenge – do you have the skill to take on the rings next year?
The 1st place tour member for Round Three was Keir McCarthy from HRS Recruitment winning Golf for Four at Gatton Manor Golf Club, a bottle of Lanson Champagne and Port.
It's not too late to get involved in the 2015 South Cast Golf Tour with the next stop being Wildwood Golf Club for the Orion Lightning Protection Client Hospitality Day – secure your place for the 10th July now.
For more information on how the Tour could benefit your business call Claire on 07801 295681 or email claire@sc-golf.co.uk