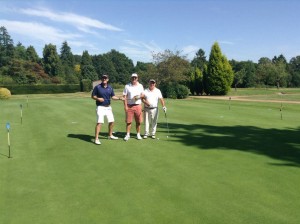 Round 5 of the South Coast Golf Tour was a scorcher in every way. Played out at the Gatton Manor Golf Club in the beautifully remote Surrey countryside, the latest round, also the 5 Rings Telecom Golf Day, was held on the hottest day of the year so far and attracted our largest-ever line-up for tee off.
On a course notorious for its variety of holes, with streams, lakes and tree-lined fairways, Adam Westwood coped well with the heat and challenges of the course to go on to be the event champion. Kevin Fowler from Prestige Wealth Planning came an agonizingly close second, whilst Nick Wheale from Vantage Insurance was nearest the pin. Congratulations to all three! View the Order of Merit Results to see the top 10 players from this round.
Not only was it great to see and catch up with so many familiar faces, we also welcomed many new guests brought along to this round of the tour. Congratulations to our best guest prize winner Paul Stewart from Richmonds of London.
The Clear Computing charity prizes always add fun to the tour and for such a great cause raising money for dizzy: support for diabetes. The charity putting competition saw Dave Hughes from Bacon & Co go all the way to victory in just 15 putts. In the lost ball charity sweepstake, nobody could have predicted the huge 205 lost balls and so the £65 will roll over into the next round at Mannings Heath Golf Club.
The brilliant turnout coupled with the fabulous weather made the day a Gatton Manor an unmissable round of the South Cast Golf Tour and we can't wait to do it all again for Round 6 at Mannings Heath in Horsham on Friday 19th September 2014. Book your place now and network whilst you play.