The Carpenter Box Company Golf Day always serves up some delights, and we're not just talking about the full English breakfast and the indulgent chocolate tart that were on the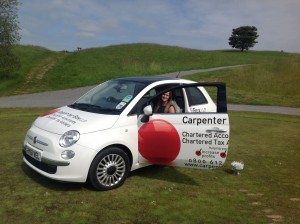 menu this year. For the fifth year in a row, Carpenter Box they did not disappoint, cooking up a day full of valuable business relationship building, healthy competition out on the course and a flurry of new players to the tour, including Best Guest prize winner Andrew Steer from HSBC.
A Shotgun Start
It was a shotgun start at East Sussex National Golf Club in Uckfield on the 22nd May with 11 teams teeing off at the same time from different holes around the course. Whilst the weather was kind to us and the course conditions almost perfect, the lakes certainly proved a challenge for many players at this 72 par scenic course, not least for our own Assistant Tour Director, Matt Clifton-Bowley who watched his first shot land straight in the drink. Not even the specially branded Carpenter Box tees could help him this time.
The vast number of trees and narrow fairways were no match for Paul Froome from Sussex Transport, who beat the rest at the test securing his First Place Tour Member Prize of a bottle of Lanson Champagne and golf for four at Gatton Manor Golf Club in Surrey – even 2011 Tour Champion Pete Raynsford from 5 Rings Telecom has to settle for runner-up to this man on the day.
The main advantage of the shotgun start was that with everyone back in at the same time,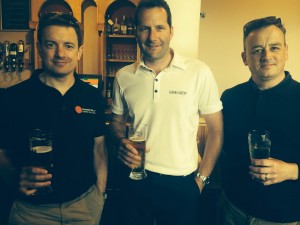 players got the chance to connect with people from other teams and expand their business network – and to enjoy a nice cold beverage together at the bar, of course.
 The Prize-giving…
After a busy day building better business on and off the course, it was time to celebrate some great golfing with Charlie Eve, a partner at Carpenter Box, presenting both team and individual prizes, as well as announcing the winner of the  Charity Putting competition for dizzy:supportfordiabetes. Find out all of the results and the order of merit points here.
With the 2015 Tour now in full swing, the next event is the 5 Rings Company Golf Day at Gatton Manor  – don't miss out, book your ticket for the 19th June now. For more information about how you can get involved with the Tour call Claire on 07801 295681 or email claire@sc-golf.co.uk